Product Description
Panasonic CF-C2 ToughBook Laptop: intel Core i5-4300U, 2.49Ghz, 8GB RAM, 256GB SSD, wifi, webcam, 12.4-inch TouchScreen, 3x USB Port, HDMI,  VGA, Ethernet, Win 10 Pro
Comes with Stylus or Pen
$499.99
Processor: Intel Core i5- 4300U (4th Gen)    1.90Ghz    2.49Ghz
Memory: 8 GB RAM
Hard Drive: 256 GB SSD
Webcam: Integrated webcam
Wireless : Built in Wifi
Bluetooth: Built in Bluetooth
Network: Integrated 10/100/1000 Ethernet
Display : 12.4-inch TouchScreen display
Operating System: Windows 10 Pro
Ports: 3x USB Display Port, Ethernet,  headPhone , Microphone, HDMI and VGA
Battery: Yes
AC Adapter: Yes
Warranty: 90 days warranty
Condition: Grade A Refurbished Laptop
---
The Panasonic Toughbook CF – C2 is a semi-rugged hybrid device that can be used as both a laptop and a tablet.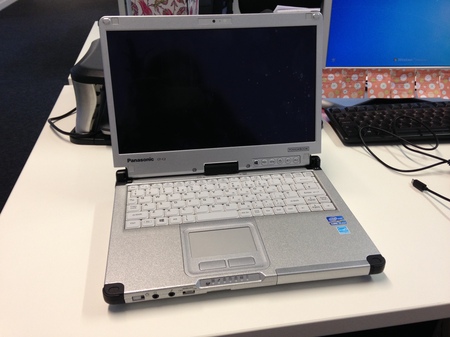 The screen rotates and flattens to become a tablet, with handy indicators to ensure that you know which direction to turn the screen in order to switch between the two modes.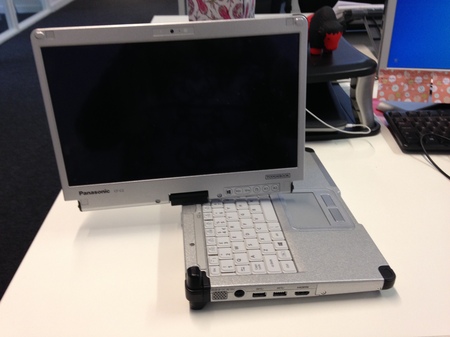 Keys on the keyboard are slightly smaller than I would have imagined for a rugged tablet, especially if the user is wearing protective gloves while using the device.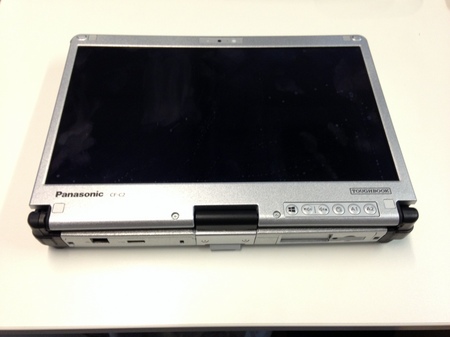 The laptop itself is quite heavy, but has a strap attached to the back to make it easier to hold and to ensure that it doesn't get dropped. It's in the perfect position for holding the laptop upright, but when in tablet mode it's not in a comfortable place, and would be a lot better if it was adjustable.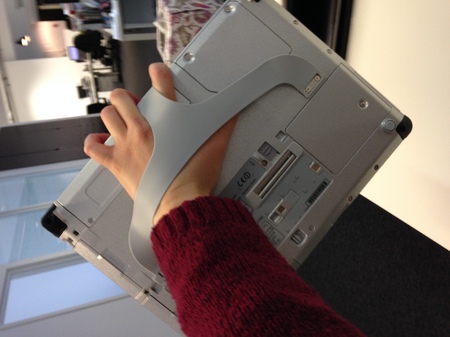 The standard battery can last up to 14 hours due to reduced power consumption, with a higher capacity battery available to provide up to 19 hours of power, and the device also features a bridge battery so that a new battery can be swapped in without having to power down.
The 10-finger multi-touch display is made of strengthened glass and is efficient and accurate, but could become annoying if trying to touch smaller icons on such as button to close a window.